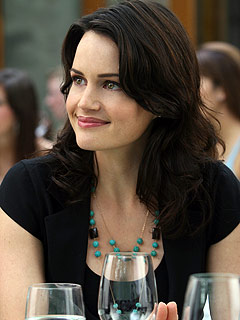 Amanda Daniels is Vince's new agent in the second half of Season 3 of Entourage. She is played by Carla Gugino.
Entourage
Edit
Amanda becomes Vince's new agent in the second half of the third season after Vince fires his previous agent Ari Gold for mishandling the Ramone film and Bob Ryan situation.
She pushes Vince to do an adaptation of an Edith Wharton novel as his next movie but gets very upset when Vince puts it on hold as Ari reintroduces the Medellin script to him. Amanda feuds with Ari during this time because both want Vince as a client. Amanda and Vince's professional relationship turns into a short romance.
However, the two formally part ways in the episode "Return of the King" when Vince wrongfully blames her as the reason he did not land the lead role in Medellin. In season 5, Eric seeks her help in selling an indie script entitled Nine Brave Souls, which Ari doesn't want Vince doing after the Medellin flop. She agrees to read it; if Eric can get her on board he will be able to sign the writers as his newest clients. Amanda reveals that Edward Norton liked the script and wants to call the movie Smoke Jumpers and produce it with the help of a big studio. She becomes Ari's potential rival for studio president Alan Gray's job after he dies of a heart attack.
In the episode "First Class Jerk," he tries to convince Amanda that he will not take the job but asks her to get Vince as the second lead in Smoke Jumpers. Still bitter over how she and Vince parted ways, Amanda wants the studio job to ensure the company will no longer work with Vince and Ari. Ari outsmarts Daniels by maneuvering Dana Gordon for the position just to spite Amanda.
She strikes back in season 7 when she emerges as Lizzie Grant's new boss, helps her steal TMA clients, and takes over Ari's efforts to open an NFL franchise team in Los Angeles. Amanda loses her respect for Ari in the episode "Porn Scenes in an Italian Restaurant" as he rants about her revenge plots, but admits that she only wanted to bring him back on the NFL plan and reveals that the leakage of Lizzie's blackmail files to Deadline Hollywood was carried out by a recently terminated male assistant who once worked for Ari.