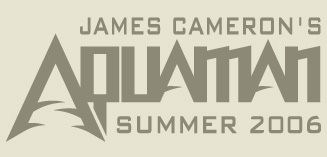 Aquaman, also known as "James Cameron's Aquaman," is a 2006 American superhero film directed by James Cameron and released by Warner Bros. Pictures. The film is based on the DC Comics character of the same name, Aquaman. The film stars Vincent Chase as Arthur Curry, a.k.a. Aquaman, Mandy Moore as Aquagirl and James Woods as the movie's antagonist, Abaddon, a corrupt businessman. Ray Liotta and Sharon Stone also co-star as Arthur Curry's birth parents. It was written by Andrew Kevin Walker with the musical score composed by Steve Jablonsky.
The film was originally planned to be part of a trilogy, but Vincent Chase got out of his contract, yet Aquaman was still followed by a 2007 sequel starring Jake Gyllenhaal in the title role. This film was directed by Michael Bay and was written by Kevin Smith.
Film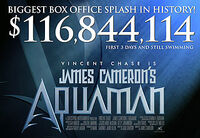 Aquaman set an all time box office record with its opening weekend sales of $116,844,144. It is revealed later in the series that it is the highest grossing movie of all-time in the Entourage universe. Merchandise for the film include Aquaman: The Video Game for the Xbox 360 and action figures. The film also inspired an amusement park ride in the form of a rollercoaster called Aquaman: The Ride.
References