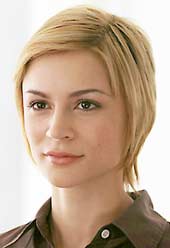 Emily is Ari Gold's former assistant and James Cameron's current assistant. She also dated Eric Murphy in Season One. She is portrayed by Samaire Armstrong.
Due to the fact that she was Ari's assistant and Eric's girlfriend, both of the men close to her demand loyalty from her. However, she wanted to stay neutral between the two, keeping business and personal life separate. In the episode of Busey and the Beach, both Eric and Emily have a falling out as the situation of business escalated into harsh feelings. In a later episode in season 1, it was confirmed both broke up and were not on speaking terms.
In season 2, as James Cameron's new assistant, she worked with Eric to help Vince land the title role of the movie Aquaman.
Appearances
Edit
After E and Emily break up, she refers to him as "pizza boy". This is a reference to E's past background as a manager at Sbarro's back in New York.