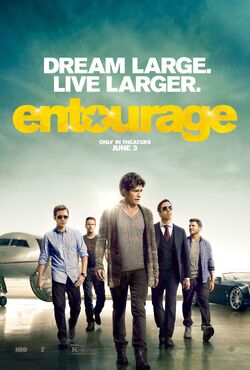 Entourage (2015) is an American Comedy based on the HBO TV series of the same name. Directed by series creator, director, and producer, Doug Ellin, and written by Ellin and Rob Weiss, the film stars Kevin Connolly, Adrian Grenier, Kevin Dillon, Jerry Ferrara, Jeremy Piven, Perrey Reeves, Rex Lee, Scott Caan, Debi Mazar, and Constance Zimmer reprising their roles, as well as newcomers Billy Bob Thornton and Haley Joel Osment.
Entourage Was released in North America on June 3, 2015.
Picking up where the TV series left off, the film continues to chronicle the career of film star Vincent Chase and his "entourage" of friends. Ari bankrolls Vince's directorial debut with a $100 million budget which goes $15 million over. He does this by securing financing from a Texas billionaire Larsen McCredle and his son Travis. Vince continues his carefree lifestyle saying if the film fails they can just move back to Queens. Now with his own studio Ari deals with the problems of being a start up movie producer in his own ill tempered way.
Billy Bob Thornton as Larsen McCredle
Haley Joel Osment as Travis McCredle
Kid Cudi as Allen, Ari's assistant
Alan Dale as John Ellis
Bow Wow as Charlie
External links
Edit
Community content is available under
CC-BY-SA
unless otherwise noted.