"Hair" is the sixth episode of the seventh season of Entourage.
Synopsis
[
]
Vincent Chase has a bad Twitter incident, a changed Billy Walsh turns to Eric Murphy with help restarting his career, and Ari Gold learns he's in jeopardy of being sued.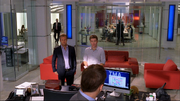 Trivia
[
]
The song playing over the end credits is La Roux- In For The Kill- (Scream's Let's Get Ravey Remix).
Cast
[
]
Primary Characters
[
]
Guest Stars
[
]
Sasha Grey as herself
Rob Morrow as Jim Lefkowitz