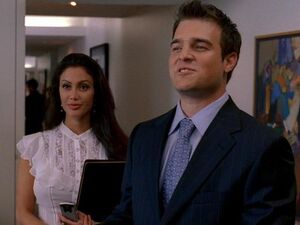 Josh Weinstein is Ari Gold's former assistant turned up and coming Hollywood agent. He is portrayed by Joshua LeBar.
Josh currently works at Triad, a competing agency, and constantly tries to lure Vincent Chase away from Ari. Josh was the first to introduce Vince and E to the script of Queens Boulevard and setting Vince on the fast track to becoming an indie star. Josh was also the first person to drop the info that "the whale" James Cameron would be directing Aquaman, and also informed Vince and E that producer Scott Wick had made an offer to Vince for Queens Boulevard.
In Season 4 he is representing Heath Ledger, who is currently being offered a part in a movie that Vince wants. Ari tricks him into thinking the movie is another 'Brokeback', so he will talk Heath out of the part. And their feud seems to end officially in Season 4 during that time.