"Lose Yourself" is the tenth episode of the seventh season of Entourage.
Ari Gold tries to save his marriage by hosting a birthday party for his wife, Eric Murphy gets a request from Terrance McQuewick, and Vincent Chase has more issues with his girlfriend and porn star, Sasha Grey and with Vince's drug problems becoming increasingly big, Turtle, Drama, Scott Lavin, E and Ari stage an intervention but it may be a case of too little, too late.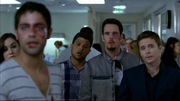 Scott Lavin reveals that he's planning on taking down Murray Berenson.
After some disagreement, E eventually relents and agrees to join Scott in taking down Murray.
Vince is presumably arrested after a police officer finds a bag of cocaine in Vince's belongings.
Christina Aguilera as herself
Drew Brees as himself
John Cleese as himself
Mark Cuban as himself
Eminem as himself
Jordan Farmar as himself
Sasha Grey as herself
Ryan Howard as himself
Minka Kelly as herself
Kevin Love as himself
Paul Rosenberg as himself
The Alchemist as himself
Mr. Porter as himself
Royce da 5'9" as himself
Community content is available under
CC-BY-SA
unless otherwise noted.