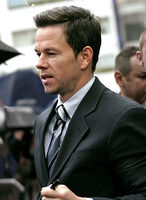 Mark Robert Michael Wahlberg (born June 5, 1971) is an actor and client of Ari Gold and friend of Vincent Chase, and his entourage, who occasionally appears in Entourage and also appeared in the Entourage film.
Entourage
Edit
Mark makes a cameo appearance in the show's pilot episode where he and his entourage encounter Vince and his entourage as they arrive to a meeting with a French director for the film Matterhorn.
Mark doesn't appear again until Unlike a Virgin.
He appears again in a cameo in Fore! where he plays with Tom Brady, Vince and the gang at a celebrity charity golf tournament.
Mark makes his final appearance in Tequila and Coke where Turtle calls Mark, asking him to return the bottles of tequila which Turtle gave him, which he reluctantly does.
Mark appears in the Entourage film follow-up where he encounters Vince and Ari as they try to get the prints of Vince's directorial debut Hyde from Travis McCredle, the arrogant, dim-witted Texan son of the film's producer. Mark appears in the end of the film as a presenter for the Golden Globe Awards ceremony. At the ceremony (much to his surprise) he announces Johnny Drama as the winner in the Best Actor category for Hyde.
Real-life
Edit
In real-life, Mark (along with elements of Tobey Maguire and Leonardo DiCaprio) is the inspiration for Vincent Chase, with the HBO series Entourage being loosely based on Mark's life and his entourage and experience of Hollywood.