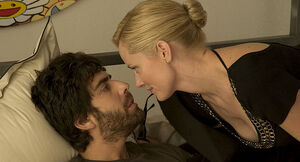 Nick "Nicky" Rubenstein is a minor recurring character in Entourage. He is the spoiled, neurotic, coke-addicted son of famous movie producer Phil Rubenstein. He is portrayed by Adam Goldberg.
Nick represents the Rubenstein family in financial issues, related to the production of Medellin under Paul Haggis. However, his determination in the episode actually results in the entire production being shelved because of him angering studio president Arthur Gatoff on Yom Kippur.
Later in the season, Nick comes into a large multi-million dollar trust fund from his father and is convinced by Ari, Vince and E to co-produce Vince's dream project, Medellin. Nick provides Eric and Vincent with a budget of 30 million dollars.
Nick's accounts are frozen in the fourth season after he is arrested for cocaine possession while attempting to bring additional funds to Colombia for the shoot.
Although Nicky accepts a USD75-million distribution offer from Yair Marx in the Season 4 final episode The Cannes Kids when the premiere of Medellin is in Cannes, Yair reneged after seeing how terrible the film is and how much the audience dislike it. Nick was then left with only a dollar as payment for Medellin's failure, courtesy of producer Harvey Weingard, who purchases the movie for a dollar and sees that it goes straight-to-DVD.
Appearances
Edit
References
Edit