No More Drama is the seventh episode of Season 6 of Entourage. It also marks the debut appearance of Scott Lavin.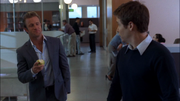 As the gang rally around to aid Vince who's suffered a break-in scare, Drama tries to repair things with his boss but discovers that it might not be possible while E's first day at the Murray Berenson Company is laced with difficulty when he's given the task of signing Bob Saget, only to discover that one of his colleagues is planning on signing Saget as well...
Eric officially joins the Murray Berenson group.
Scott Lavin, Eric's rival and future partner is introduced for the first time.
Bob Saget as himself
Kate Mara as Brittany
Community content is available under
CC-BY-SA
unless otherwise noted.