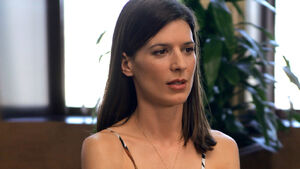 Perrey Reeves is an actress who played Mrs. Ari on Entourage.
Born in New York City, she was raised in the countryside of New Hampshire with a family who preferred not to own a television. Her educational background ranged from years abroad in France and Italy to the Ivy League colleges of the United States. Drama studies were what really interested her, resulting in her choosing an acting career.
Her most recent role is in the HBO comedy series Entourage (2004–2011) as Ari Gold's wife and she appeared (2009) in Rules of Engagement, Family Style, and in Grey's Anatomy. Other notable roles included "Marissa" opposite Will Ferrell in the film Old School (2003) and "Jessie" in the film Mr. and Mrs. Smith (2005). She has also had parts in the political comedy American Dreamz (2006), The X-Files (1994), Kicking and Screaming (1995), Escape to Witch Mountain (1995), and the horror film Child's Play 3 (1991).
Community content is available under
CC-BY-SA
unless otherwise noted.