"Sniff Sniff Gang Bang" is the eighth episode of Season 7 of Entourage.
Synopsis
[
]
Billy Walsh's show idea for Johnny 'Drama' Chase draws attention from CBS, Turtle tries to get funding for his tequila company, and Vincent Chase is asked to do a drug test for his upcoming movie while Eric Murphy angrily confronts Scott Lavin after learning from Billy Walsh that Scott was the one who introduced Vince to coke.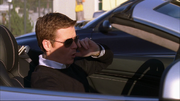 Major Events
[
]
E learns that Scott Lavin was the one responsible for Vince's recurring drug problem, leading to a furious confrontation between the two men.
Trivia
[
]
The song playing in the nightclub at the start of the episode is Mark Ronson & The Business Intl - Bang Bang Bang while the song playing as Eric arrives to confront Scott after learning that Scott was the one who got Vince addicted to coke and when Eric leaves Scott's office is the Black Keys- Howling For You.
Cast
[
]
Primary Characters
[
]
Guest Stars
[
]
Sasha Grey as herself
Mark Cuban as himself
Kevin Love as himself
Jeffrey Tambor as himself